Suicide Prevention Lifeline:

988
Crisis Text Line:

Text HELLO to 741741
NIMH: Suicide — How You Can Make a Difference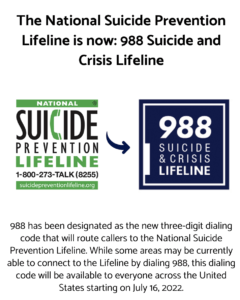 Suicide Prevention Lifeline:  Youth
Ask Suicide-Screening Questions (ASQ) Toolkit
AAS: Sleep Problems as a Risk Factor for Suicide
Suicide Prevention Resource Center (SPRC)
Suicide Prevention Resource Center – SCHOOLS
Suicide Prevention Hotline: Mental Health & Suicide Prevention Glossary
AFSP:  Get help

AAP: Talking About 13 Reasons Why & Teen Suicide
Society for the Prevention of Teen Suicide (SPTS)
APA: Teen Suicide is Preventable
U. S. Suicide Prevention Hotline
Mental Health & Suicide Prevention Glossary
Preventing Youth Suicide: Tips for Parents and Educators
SAMHSA: Preventing Suicide — A Toolkit for High Schools
After a Suicide: A Toolkit for Schools
WomensHealth.gov: Suicide Prevention
Healthy Mind and Healthy Body: Suicide Prevention Guide

VIDEOS

TUTORIALS/WEBINARS
CAMS-CARE.com:  Adolescent Suicide Prevention On-Demand
What is a Safety Plan?

What is a Safety Plan?
SuicidePreventionMonthIdeasAction2018_0

Suicide Prevention Month – Ideas for Action
vs-0618-suicide-H

CDC:  Suicide rising across the US
SuicidePreventionResourceGuide2017

CSN:  Youth Suicide and Self-Harm Prevention – 2017 Resource Guide
Be a Face of Hope
PreventingSuicide_SAMHSA

Preventing Suicide:  A Toolkit for High Schools
Coping Wallet Card

Suicide Prevention Lifeline Wallet Card – Having Trouble Coping?
Suicide Warning Signs

Suicide Prevention Lifeline Wallet Card – Learn the Warning Signs?
V13_HS teachers

The Role of High School Teachers in Preventing Suicide
Teens

Suicide Prevention Resources for Teens
SelfHarmAssessmentPacket

Self-Harm Assessment
AfteraSuicideToolkitforSchools

After a Suicide:  A Toolkit for Schools
Empty Seat PSA
NIMH:  Here are five steps you can take to #BeThe1To help someone in emotional pain: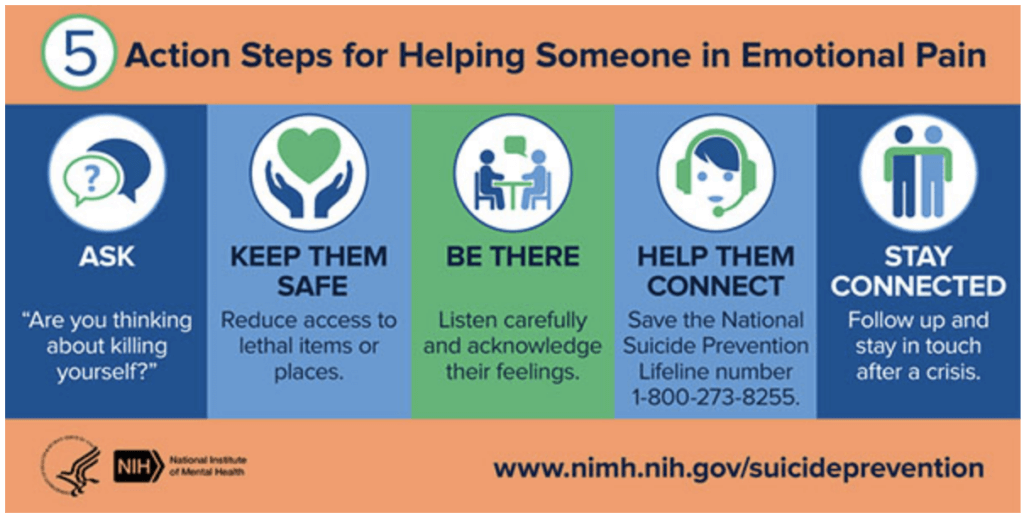 ASK: "Are you thinking about killing yourself?" It's not an easy question, but studies show that asking at-risk individuals if they are suicidal does not increase suicides or suicidal thoughts.
KEEP THEM SAFE: Reducing a suicidal person's access to highly lethal items or places is an important part of suicide prevention. While this is not always easy, asking if the at-risk person has a plan and removing or disabling the lethal means can make a difference.
BE THERE: Listen carefully and learn what the individual is thinking and feeling. Research suggests acknowledging and talking about suicide may reduce rather than increase suicidal thoughts.
HELP THEM CONNECT: Save the National Suicide Prevention Lifeline's (1-800-273-TALK (8255)) and the Crisis Text Line's number (741741) in your phone, so it's there when you need it. You can also help make a connection with a trusted individual like a family member, friend, spiritual advisor, or mental health professional.
STAY CONNECTED: Staying in touch after a crisis or after being discharged from care can make a difference. Studies have shown the number of suicide deaths goes down when someone follows up with the at-risk person.
MENTAL HEALTH CRISIS PROTOCOLS (from Dallas ISD)
Suicide Threat of a Student Protocol 2020-2021-3

Suicide Threat of a Student
Suicide Attempt of a Student Protocol 2020-2021-3

Suicide Attempt of a Student
Suicide of a Student Protocol 2020-2021

Suicide of a Student
Suicide Completion of a Student Protocol 2020-2021

Suicide Completion of a Student